PLEASE CLICK HERE FOR A LETTER FROM SISTER MERRIS.
Friday, December 18 – RED and GREEN dress down.  Last day for after care.
Tuesday, December 22 – Last full day of school before Christmas break.
Wednesday, December 23 – No school. Christmas recess begins.
Monday, January 4 – School resumes REMOTELY.
Monday, January 18 – No school. All students should drop off their books/crates between 9 a.m.  and noon.
Tuesday, January 19 – In-person school resumes.
Thursday, January 21 – Eighth grade graduation pictures. Make up photos for anyone absent in October or re-takes if original package is provided. Students can dress for pictures.
Friday, January 22 – End of second marking period.
ASSUMPTION SCHOOL FOOD DRIVE
Assumption School will be collecting non-perishable food to donate to the Interfaith Food Pantry to spread the gift of food to those in need. Starting December 7 – December 17 all items can be left in the front entrance of Assumption School or bring it at drop off in the morning. All non-perishables are welcome. Below is a list of the most needed items:
Muffin or roll mix
Stuffing
Canned gravy
Powdered potatoes
Brownie mix
Canned vegetables, yams or sweet potatoes
Cake mix/frosting
Soup (low sodium)
Canned fruit
Rice
Peanut butter/jelly
We appreciate your generosity. Many blessings to all!

The cloistered Carmelite Sisters of Morristown are devoted to praying more than eight hours a day for peace in our community and in the world. They are dependent on the goodwill of the community to meet their basic needs and unfortunately, the Assumption Church annual bake sale benefiting the Carmelite Sisters cannot be held this year due to the Covid pandemic.
In lieu of the bake sale, volunteers have created a cookbook of desserts, "Sweet Carmel," which includes Catholic themed photos taken by a professional food photographer!
There will be a limited number of printed copies available by mid-December. The 80+ page cookbook will be high end magazine quality with a bounded spine. There is also a digital version that can be downloaded immediately upon payment.
Thank you for your consideration and your support. Please keep the Carmelite Sisters in your prayers, especially during these trying times. Blessings.
—
The world's thy ship and not thy home
         – St Therese of Lisieux
GIRL SCOUTS WINTER WONDERLAND AT HOME 
Girl Scouts of Northern New Jersey is kicking off the 2021 year with an exciting new virtual event, Winter Wonderland @Home (Wednesdays from 4 – 5pm, Jan. 20 – Feb. 17), for girls who are interested in joining Girl Scouts in grades Kindergarten – 5th. Please click here for more details.
These activities will focus on the foundation of the Girl Scout Leadership Experience STEM, Outdoors, Life Skills and Entrepreneurship while having lots of fun and making new friends.
Girl Scouts of Northern New Jersey, serves girls in Bergen, Morris, Passaic, Sussex and north Warren counties. Girl Scouting builds girls of courage, confidence, and character, who make the world a better place.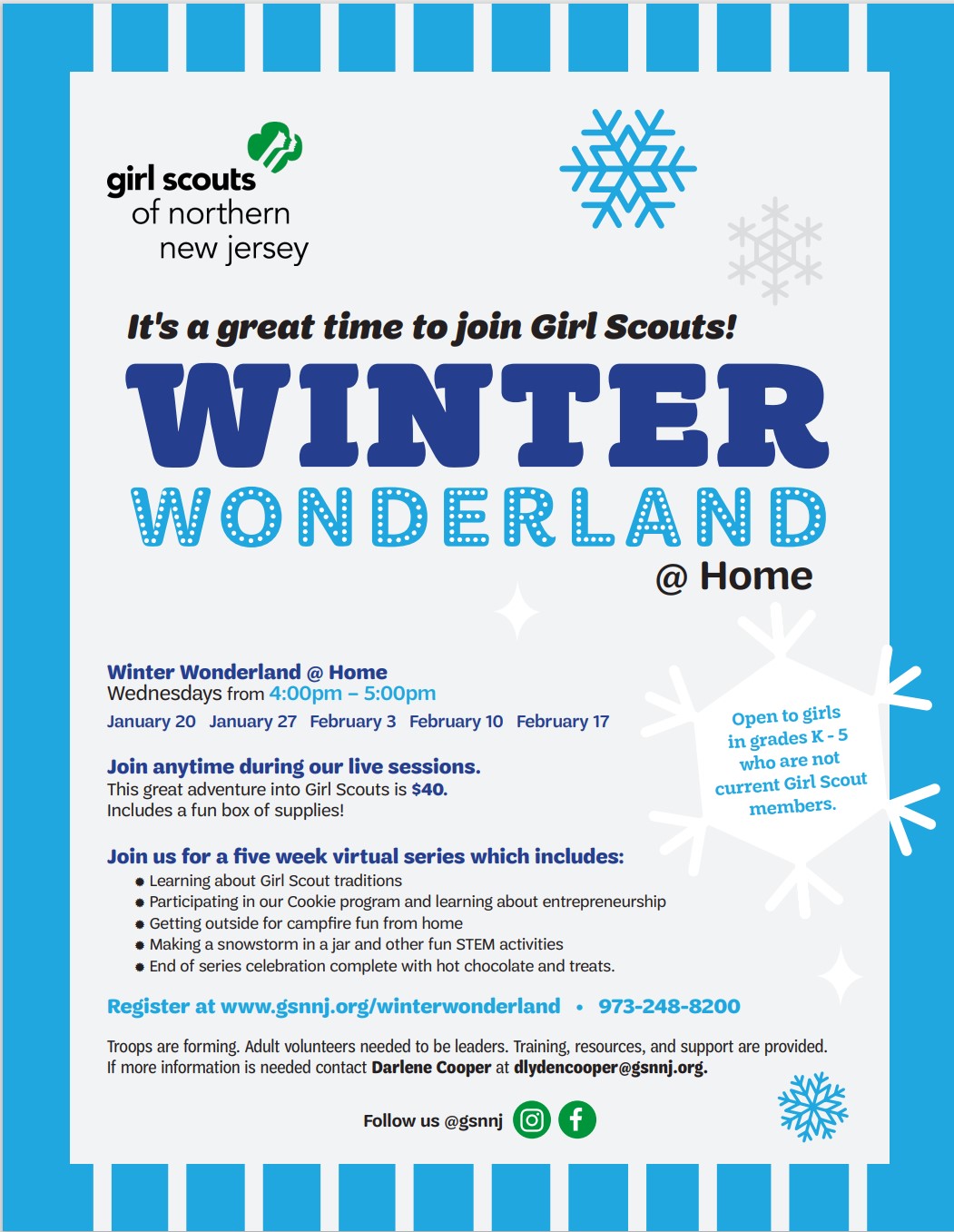 AFTER SCHOOL TUTORING
Mrs. Galdieri
 is available to 
tutor
 for Language Arts, especially grades 3-8, but is certified for English, K-12. I also 
tutor
 for general homework help/study skills. If interested, please contact me at
at 973-222-2110. Thank you.
Yours,
Kathy Galdieri
973-222-2110
Mrs. Klocksin will start tutoring this month. Please contact me at
mklocksin@assumptionnj.org if you are interested. Thank you!
Mrs. Schapitl is available for after school tutoring. The first marking period is ending and reporting cards are coming. If your child needs help with current academic content, comprehension, or problem solving skills, I would be happy to work with them after school. Please contact me at sschapitl@assumptionnj.org so I can discuss your needs. Thank you!
ASSUMPTION SCHOOL YEARBOOK                               
The 2021 Assumption School Yearbook is now on sale.  You can reserve your copy online at 
jostensyearbooks.com
.  We are unable to accept orders at school.  All orders must be handled on-line.  Yearbooks are $35.00.
Susan Sopira
Technology Teacher
Assumption School