PLEASE CLICK HERE FOR A LETTER FROM SISTER MERRIS.
Tuesday, December 22 – Last full day of school before Christmas break. RED and GREEN dress down. 
Wednesday, December 23 – No school. Christmas recess begins.
Monday, January 4 – School resumes REMOTELY.  ***Please see the important information below regarding REMOTE LEARNING.
Monday, January 18 – No school. All students should drop off their books/crates between 9 and noon.
Tuesday, January 19 – In-person school resumes.
Thursday, January 21 – Eighth grade graduation pictures. Make up photos for anyone absent in October or re-takes if original package is provided. Students can dress for pictures.
Friday, January 22 – End of second marking period
Thank you to all of the Assumption families who brought food in for the Interfaith Food Pantry. Your contributions will help so many families in need.
Watch for 2021-2022 registration forms coming in January.
REMOTE LEARNING GUIDELINES
Sign into Homeroom Meet every morning on time by 8 am. This is when attendance will be taken. If you are not on the Homeroom Meet you will be marked absent.
Sign into all Meets on time. If you sign in late, you will miss important directions and the homework check. It is also distracting to the rest of the class.
Please attend every Meet. These are your classes. They are not optional.
When you are on a Meet, please mute your microphone unless you are called on to answer/ask a question. When called upon, quickly unmute your microphone and answer promptly. Practice unmuting quickly. We are wasting lots of time waiting for responses.
When you are in a Meet, it is like you are in the classroom. Please sit on a straight back chair at your workstation and have everything you need for that class close at hand. (Please no lounging on furniture.)
Please do not eat while in a classroom meet. We have snack and lunch times in the schedule for that.
Do not have any other devices near you. Pay strict attention to everything that is going on in the class. Ask questions if you have them. Work in a quiet area of your home.
Keep your camera on you at all times (not the ceiling, not the wall). We need to see that you are in the class and that you are paying attention and engaged.
Do not use the chat feature unless advised by the teacher.
Follow your remote schedule and take the appropriate snack and lunch breaks where indicated. Please use the restroom during these break times and not during class time.
You must wear your school uniform on camera unless otherwise noted.
You will be removed from a meet at the teacher's discretion if you are misbehaving and not following the guidelines.
While working remotely, all work must be completed and turned in by the due date. Failure to do so will result in a "0"!
If your camera continues to freeze, let your parents know immediately. Your internet may need to be adjusted.
Please make sure your device is working properly.   If you are having any tech issues, please have your parents call our Hotline # 973-753-1311.

The cloistered Carmelite Sisters of Morristown are devoted to praying more than eight hours a day for peace in our community and in the world. They are dependent on the goodwill of the community to meet their basic needs and unfortunately, the Assumption Church annual bake sale benefiting the Carmelite Sisters cannot be held this year due to the Covid pandemic.
In lieu of the bake sale, volunteers have created a cookbook of desserts, "Sweet Carmel," which includes Catholic themed photos taken by a professional food photographer!
There will be a limited number of printed copies available by mid-December. The 80+ page cookbook will be high end magazine quality with a bounded spine. There is also a digital version that can be downloaded immediately upon payment.
Thank you for your consideration and your support. Please keep the Carmelite Sisters in your prayers, especially during these trying times. Blessings.
—
The world's thy ship and not thy home
         – St Therese of Lisieux
GIRL SCOUTS WINTER WONDERLAND AT HOME 
Girl Scouts of Northern New Jersey is kicking off the 2021 year with an exciting new virtual event, Winter Wonderland @Home (Wednesdays from 4 – 5pm, Jan. 20 – Feb. 17), for girls who are interested in joining Girl Scouts in grades Kindergarten – 5th. Please click here for more details.
These activities will focus on the foundation of the Girl Scout Leadership Experience STEM, Outdoors, Life Skills and Entrepreneurship while having lots of fun and making new friends.
Girl Scouts of Northern New Jersey, serves girls in Bergen, Morris, Passaic, Sussex and north Warren counties. Girl Scouting builds girls of courage, confidence, and character, who make the world a better place.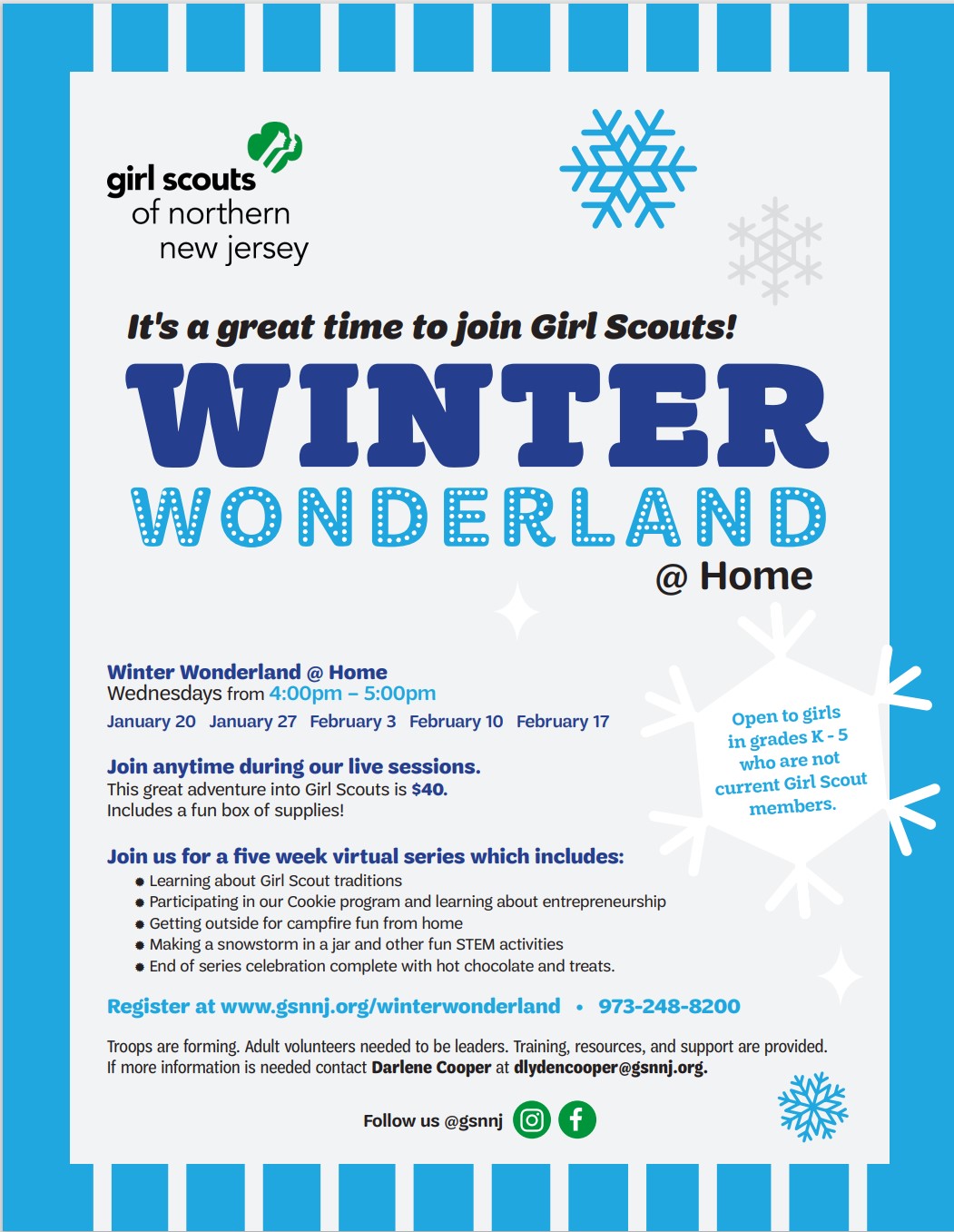 AFTER SCHOOL TUTORING
Mrs. Galdieri
 is available to 
tutor
 for Language Arts, especially grades 3-8, but is certified for English, K-12. I also 
tutor
 for general homework help/study skills. If interested, please contact me at
at 973-222-2110. Thank you.
Yours,
Kathy Galdieri
973-222-2110
Mrs. Klocksin will start tutoring this month. Please contact me at
mklocksin@assumptionnj.org if you are interested. Thank you!
Mrs. Schapitl is available for after school tutoring. The first marking period is ending and reporting cards are coming. If your child needs help with current academic content, comprehension, or problem solving skills, I would be happy to work with them after school. Please contact me at sschapitl@assumptionnj.org so I can discuss your needs. Thank you!
ASSUMPTION SCHOOL YEARBOOK                               
The 2021 Assumption School Yearbook is now on sale.  You can reserve your copy online at jostensyearbooks.com.  We are unable to accept orders at school.  All orders must be handled on-line.  Yearbooks are $35.00.
Susan Sopira
Technology Teacher
Assumption School