Please CLICK HERE to read a Flocknote from Sister Merris.
Monday, February 1 – Friday, February 5 – Catholic School/Spirit Week
Monday, February 1
Permission to photograph must be returned to school for every student. Form was sent home with your child on Friday. It is also, available on website.
Friday, February 5
Bishop Kevin Sweeney visiting Assumption School.
Students must be in school uniforms. ****Red/White/Blue day postponed until Monday, February 8.
Friday, February 12
Half Day 11 o'clock dismissal.
PLEASE NOTE: All Preschools will be dismissed at 11:30 in order to avoid pick up problems with parking. All Preschool siblings can wait with Sister Merris until 11:30 to be picked up.
Monday and Tuesday, February 15 and 16
Wednesday, February 17
Ash Wednesday 8:30 virtual Mass
Please remember if you change your phone number or address to call the office.
Remote Learning – Going forward when school cannot be in session because of the weather we will be remote unless otherwise stated. All students should take their Chromebook home every day.
SPIRIT WEEK 2021 – FEBRUARY 1 – FEBRUARY 5
***Decorate a door contest-Honoring Essential Workers***
Monday – Honor Essential Workers Day****Dress-Like an Essential Worker
Project:  Thank you cards/videos for essential workers
Activity:  1 PM Google Meet with an Essential Worker
Tuesday – Crazy Hair/Hat and Clash Day
****Dress-Crazy
Activity:  1 PM Grade Wide Kahoot
Wednesday – Pajama/Cozy Slipper Day
****Dress-Pajamas
Activity:  12:30 PM Talent Show (virtual) revised Lunch schedule, if necessary
Thursday – Movie Day
****Dress as a Character from your favorite movie
Activity:  Movie in Classrooms (revised lunch schedule, if necessary)
Friday – Patriotic Day / Bishop Sweeney Visit (Kids in full UNIFORM)
****Red, White, & Blue day – POSTPONTED TO MONDAY, FEB. 8
Project:  Divine Mercy – Jesus, I Trust in You
Activity:  1pm Volleyball Game 8a vs 8b (virtual)
ASSUMPTION SCHOOL FUNDRAISING CAMPAIGN
HAPPY CATHOLICS SCHOOL WEEK!
We ❤️ Assumption!
Thank you to all the families that have sent in their raffle books thus far! We appreciate your support! Keep them coming!
In coordination with the celebration of Catholics School Week, Assumption School is kicking off our Online Giving Campaign to help reach our goal of raising $75,000 for our school. Below you will find a link where additional donations can be made to support our fundraising efforts! Please feel free to share this link with family and friends, on social media, or via text! A link can also be found on the main page of the school's website by clicking the "GIVING" button!  Again, we can't thank you enough for all your continued support!
If you have any questions or concerns, please email hsafundraising@assumptionnj.org.
Kate Ball & Linda Riedell
Fundraising Co-Chairs
FROM THE NURSE'S OFFICE:
Due to the continuing transmission of Covid-19, we would like to reiterate our policy regarding illness, in-person attendance and recreational travel.
Masks:
Regarding masks, please be sure to wash your child's mask after each use and send an extra mask or two in with your child daily.
Travel:
The CDC and NJ Department of Health both strongly discourage recreational travel at this time. If you must travel anywhere out of the state, please know that we request a Covid test (PCR, not rapid) 4-5 days after returning to NJ. If that test is negative, then you must quarantine for a total of 7 days after returning to NJ. You must present the negative test results to the school upon re-entry. If you are unable to get a test, we require that your child quarantines for 10 days after returning to NJ.
Experiencing Covid-19 Symptoms:
Effective January 1, 2021, the NJ Department of Health is now recommending that "any child with Covid-19 compatible symptoms should not return to school until they have either received a negative viral test (molecular or antigen) for SARS-CoV-2 or they have completed an isolation period of at least 10 days since symptom onset and at least 24 hours after resolution of fever without fever-reducing medications with symptom improvement." A purely alternative diagnosis is no longer accepted. We are strongly recommending a PCR test (not a rapid test).
To further clarify, students with Covid-19 compatible symptoms are defined as:
At least two of the following symptoms: fever (measured or subjective), chills, rigors (shivers), myalgia (muscle aches), headache, sore throat, nausea or vomiting, diarrhea, fatigue, congestion or runny nose;
OR
At least one of the following symptoms: cough, shortness of breath, difficulty breathing, new olfactory (smell) disorder, new taste disorder.
If symptoms are noted at school the parent or emergency contact will be notified to pick up their child within 45 minutes. Students will be monitored and kept in isolation by the nurse until pick up.
CLICK HERE FOR ADDITIONAL INFORMATION regarding COVID-19 exclusion criteria for close (direct) contacts.
ASSUMPTION SCHOOL YEARBOOK                               
The 2021 Assumption School Yearbook is now on sale.  You can reserve your copy online at jostensyearbooks.com.  We are unable to accept orders at school.  All orders must be handled on-line.  Yearbooks are $35.00.
Susan Sopira
Technology Teacher
Assumption School
AFTER SCHOOL TUTORING
Mrs. Galdieri is available to tutor for Language Arts, especially grades 3-8, but is certified for English, K-12. I also tutor for general homework help/study skills. If interested, please contact me at
at 973-222-2110. Thank you.
Yours,
Kathy Galdieri
973-222-2110
Mrs. Klocksin will start tutoring this month. Please contact me at
mklocksin@assumptionnj.org if you are interested. Thank you!
Mrs. Schapitl is available for after school tutoring. The first marking period is ending and reporting cards are coming. If your child needs help with current academic content, comprehension, or problem solving skills, I would be happy to work with them after school. Please contact me at sschapitl@assumptionnj.org so I can discuss your needs. Thank you!
Mrs. Guglielmo is experienced in grades 4-8. Please contact if interested – sguglielmo@assumptionnj.org. Thank you!
MAALL MORRISTOWN AREA AMERICAN LITTLE LEAGUE
All Assumption School students are eligible to play for Morristown Area American Little League regardless of where you reside! Registration is now open. Visit the following link to register for the 2021 spring season: https://maall.sportngin.com/register/form/765860200
MAALL is confident that we will be able to provide a SAFE environment for our kids this spring season and will follow every precaution possible, similar to how we ran a safe but fun summer league in 2020 with more than 125 players.  As an extra precaution, we have decided to start the season later in April this year to allow for kids to practice and play OUTDOORS ONLY.
*As with last season, if baseball is not permitted refunds will be issued.
GIRL SCOUTS WINTER WONDERLAND AT HOME 
Girl Scouts of Northern New Jersey is kicking off the 2021 year with an exciting new virtual event, Winter Wonderland @Home (Wednesdays from 4 – 5pm, Jan. 20 – Feb. 17), for girls who are interested in joining Girl Scouts in grades Kindergarten – 5th. Please click here for more details.
These activities will focus on the foundation of the Girl Scout Leadership Experience STEM, Outdoors, Life Skills and Entrepreneurship while having lots of fun and making new friends.
Girl Scouts of Northern New Jersey, serves girls in Bergen, Morris, Passaic, Sussex and north Warren counties. Girl Scouting builds girls of courage, confidence, and character, who make the world a better place.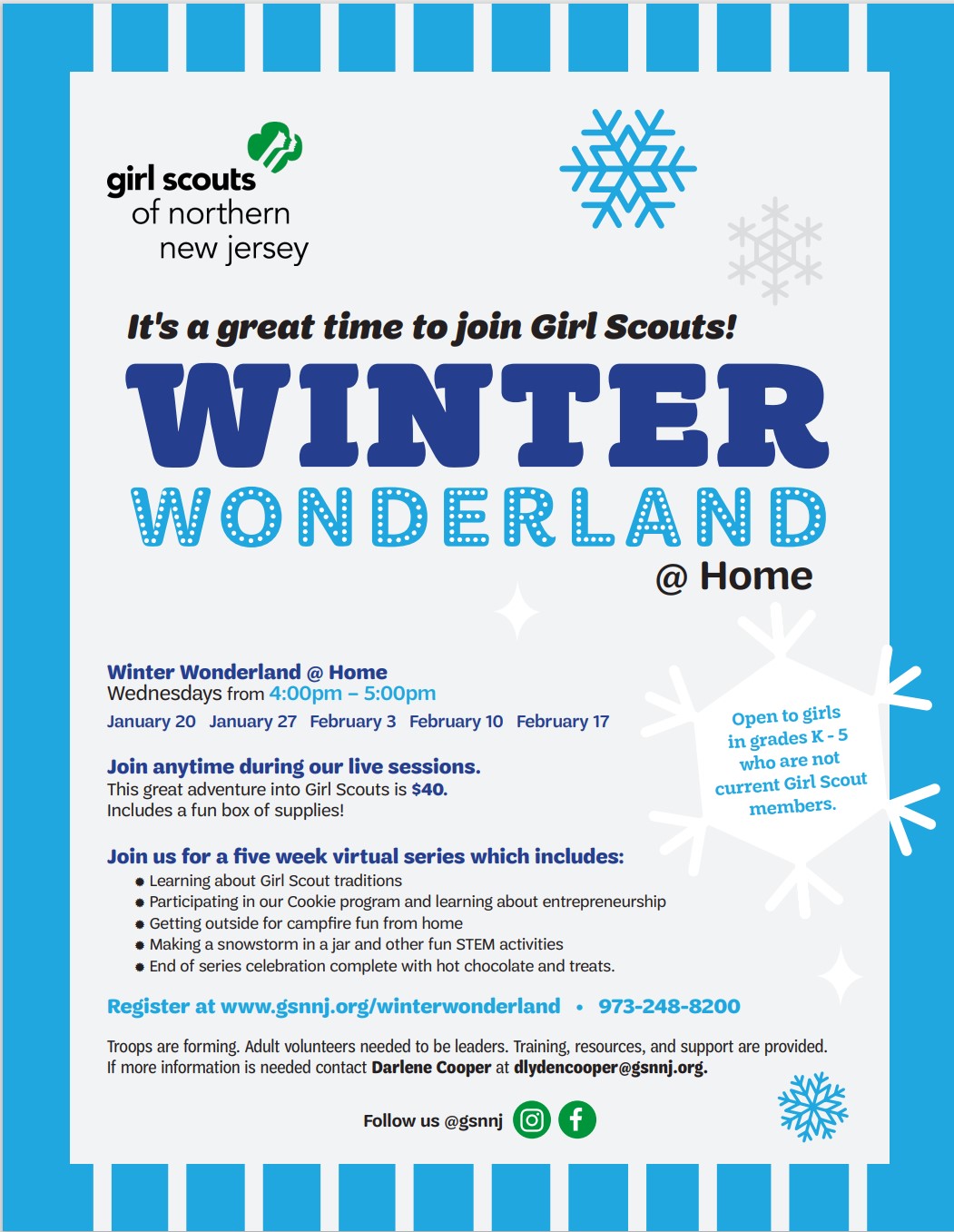 VILLA WALSH SUMMER CAMP

Villa Walsh Academy will be holding their Summer Camp with two sessions offered:
Session 1:  June 28-July 2
Session 2:  July 12– July 16 & a High School level evening camp too!
Should you have any questions or concerns please feel free to contact the Camp Director, Shannon Graziani, at summercamp@villawalsh.org.